11th Hour Farm & Equestrian Center is a privately owned full service horse boarding facility. We're located on 30 acres in northwestern Oakland County.
We offer large grass pastures totaling more than 20 acres and are never over crowded! We have 5 acres of woods with groomed riding paths. We live on site and provide the TLC you expect for your horse. We treat every horse as if it were ours. It's all about the horses...period!
What to Expect:
New arrivals are kept separate from other horses for the first couple of weeks. We determine pasture mates based on personality of the horses. We let the horses get to know each other over the fence before putting them together. We don't just throw them together in the pasture and hope for the best. Your horse's safety is our main goal.
Turn Out:
We believe it's in your horse's best interest to be outside as much as possible, not cooped up in a stall. Unless extreme weather dictates otherwise, our typical turn out is from 5am to 5pm every day.
Feed:
We feed grain 2x per day plus hay in their stalls year round. In the winter we provide additional hay 2-3x depending on the horses needs. We don't go to hay auctions and buy the cheapest hay available. For 13 years we've bought top quality hay from the same Michigan producer so we can be confident in what we are getting. Our current grain offering is
Purina Senior, Strategy Healthy Edge and Tribute Kalm 'N EZ
. If your horse requires a special diet, we'll discuss your needs and make every effort to meet them. If you have supplements, there's no charge to add them to the feed. We thoroughly mix the supplements with the grain so they are not sitting on top.
Vets & Farriers:
We do require all horses be current with their shots, be on our anthelminitic (De-worming) program and have a current coggins. You're welcome to use your current vet and farrier or we'll put you in contract with one that already calls on us.
Our Clientele:
Our folks are mostly older teens and adults. We have nothing against younger children coming to Eleventh Hour Farm, we're just geared for the adult crowd. Our boarders are either dressage, western or pleasure riders. This represents a good mix of riding styles and are very compatible. If you want to do a little jumping, that's fine too but we're not a jumper barn so we will ask that the jumps be taken down when you're done.
We have a great group of people and horses here. No drama queens (or kings) and no soap operas being played out. If you like barn drama, backbiting, gossip, high brow attitudes or chronic complaining... sorry, this isn't the place for you and you might as well keep looking for another facility so we won't have to ask you to leave. We have a fun loving group that come out to enjoy their horses... that's the way it should be and the way we will keep it!
We'd love to give you a tour. To schedule a specific time for a visit, you can call me at 248-755-2083 or email us from the contact page. After your visit, if you and your horse are serious about joining us, we'd be glad to put you in contact with our other boarders so you can ask them about Eleventh Hour Farm
before
making your final decision.
Thanks!!
Nancy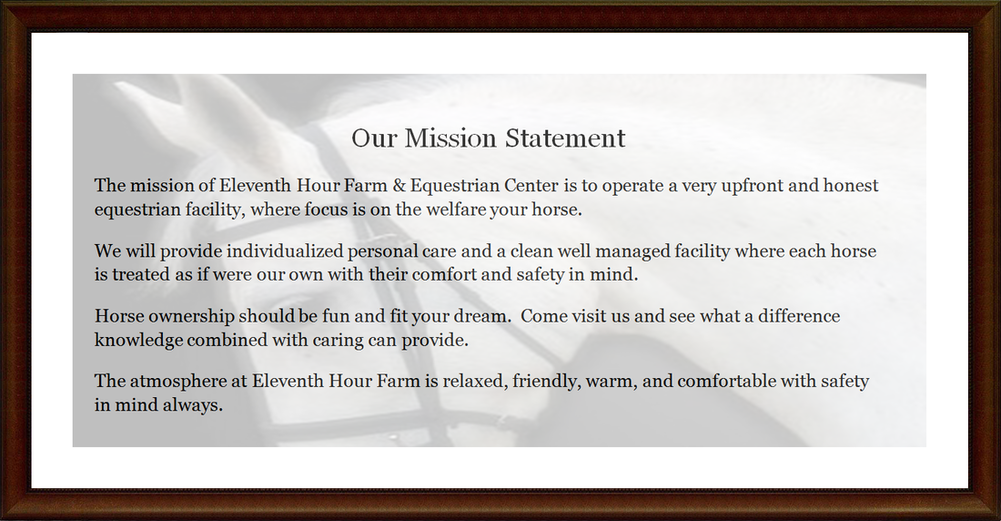 ---
Eleventh Hour Farm Equestrian Center
About Us